Through conducting interviews with peers from various schools, the Democracy Ready NY Youth Ambassadors investigated the role of student councils within their respective schools. At my school, Francis Lewis High School, the student council demonstrated a commendable engagement in positively impacting the community and undertaking leadership roles. As expressed by one student, "Being more involved and having a valuable addition to my resume" seemed to be the common motivation for participating in the student council, a sentiment echoed by students from other schools as well. This was conveyed by a student from a different school, "To become more involved and have a voice for the student body".
Among the noteworthy findings was the active involvement of many student council members in extracurricular activities beyond their council responsibilities, with a ratio of 2:11 indicating their participation in diverse roles. Predominantly, respondents held or currently hold positions such as president, treasurer, vice president, sophomore representative, or member of the leadership team. However, it is worth noting that there were a few outliers whose membership in the student council was based on being selected as a founding member. Those individuals were responsible for establishing and organizing the student council at their school. As a founding member, they play a crucial role in laying the foundation and setting up the framework for the council's activities and operations.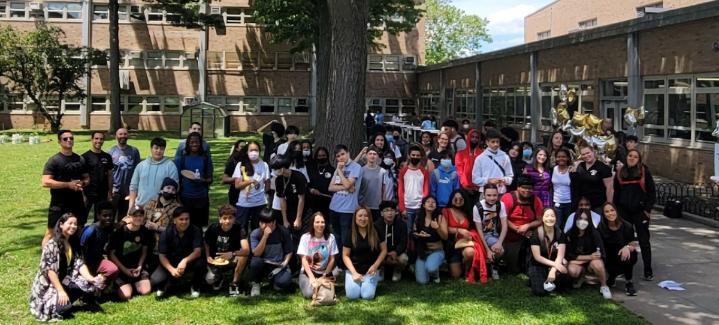 Lewis, J. (2022). Francis Lewis High School Restorative Practice Program Students [Photograph]. Twitter. https://twitter.com/LICHSMsLewis
This leads us to ponder the implications of the recently proposed NYs Senate Bill S1732, which aims to establish student governments in high schools or districts where they are currently absent. The creation of this bill was prompted by a nationwide concern regarding insufficient civic readiness among high school graduates. The inclusion of students in school governance is seen as an effective approach to foster civic engagement among young individuals. The bill emphasizes that "participation in peer-selected student government programs equips students with the knowledge and understanding of government functioning, enabling them to shape society through the political process and providing leadership opportunities for a diverse range of students."
While the bill represents a step in the right direction, its requirement for student governments in schools alone may not be sufficient to amplify student voices. Given the limited number of positions available within the student council, not all students will have the opportunity to actively participate in civic matters, especially in schools with a significant student population. A pertinent example is Francis Lewis High School, which accommodates 4,000 students but only offers 19 spots on the student council. Consequently, it is imperative to consider further enhancements to the bill's recommendations.
3 Ways to Enhance NY's Senate Bill S1732 for Stronger Student Engagement
Expand Student Government Structures
While the bill encourages the establishment of student governments, it could be beneficial to provide guidance on structuring these bodies to accommodate a broader representation of student voices. This may include creating a specialized committee or implementing a system that ensures proportional representation across various grade levels or student demographics.
Promote Student Participation Beyond the Council
Recognizing the limitations of available positions, the bill could emphasize the importance of engaging all students in the decision-making process, irrespective of their direct involvement in the student council. This can be achieved by encouraging schools to implement mechanisms such as surveys, or advisory boards that allow for broader student input and involvement.
Foster Collaboration with School Administration
The bill can encourage collaboration between student governments and school administrators. This entails establishing channels for regular communication, mentors in the decision-making process, and ensuring that student voices are heard and considered in decision-making processes within the school.
By incorporating these three key improvements, NY's Senate Bill S1732 can better promote student engagement, amplify student voices and cultivate civic readiness among high school students throughout the state. Together, let's strengthen the role of student governments, involve all students in decision-making, foster collaboration, and empower the next generation of leaders.